The Bones of a Country:

An insight into

Dany Laferrière's

The World is Moving Around Me




Tuesday, March 26th, 2013

 




The World is Moving Around Me by Haitian writer Dany Laferrière is a memoir of the earthquake that devastated Haiti on 12th January, 2010. The Haitian-born author was one of the writers visiting the country for the "Étonnants voyageurs" international festival of books and film that was due to take place. Laferrière's account, published on the third anniversary since some 300,000 inhabitants lost their lives in the disaster, combines both sentimental storytelling with literary skill to give the reader an intimate insight into a nation that was shook to its bare bones.

 

On receiving The World is Moving Around Me, I knew exactly what the text was about. I'd read the press release provided with the review copy (with thanks to Arsenal Pulp Press) and scanned the blurb on the back cover (as one does), noting Laferrière's subtitling of the text, which immediately anchors the subject matter. As such, I did not expect the book to begin as it does: Laferrière leads the reader into a false sense of security; conjuring up a thriving image of Haiti, a country that occupies a third of the island space it shares with the Dominican Republic. The opening section of the text is entitled Life Returns and outlines the country's return to normality after decades of turmoil, including, as the writer states, 'family dictatorships, military coups, repeated hurricanes, devastating floods, and random kidnappings' (13). The author paints an image of a richly cultured place, inhabited by a large (and inexplicable) concentration of writers and artists, with dusty streets where women sell mangos and avocados. In an instant, Laferrière brings our attention to the moment when the earthquake struck Haiti, the minute when 'The earth started shaking like a sheet of paper whipped by the wind' (15). This brief section, appropriately entitled The Minute, gives the reader a sense of the situation at hand with 'The low roar of buildings falling to their knees' (15). It is from these first few sections then, that the reader gets a strong sense of Laferrière's stylistic devices used in the text.

The World is Moving Around Me is divided into small sections, fragments, if you like, of varying lengths. Very early on, Laferrière tells us that when he travels, he always carries with him two things: his passport and a black notebook: 'in which I write down everything that crosses my field of vision or my mind' (15). The fragments then become parts Laferrière's notebook, where the author tries to make sense of the situation that plays out before his very eyes. Thus, the fragments are reflective of the writer wanting to recall, recollect, and rationalise the world that is moving around him. What is more, the fragments serve to symbolise a nation that is torn apart within the space of a single minute. But Laferrière is skilful with the format of the book, what is seemingly fragmented, functions as a whole: narrative threads are introduced, left and then revisited, characters reappear time and again.

What comes to mind as I explore this point is a line from the first section of T.S. Eliot's popular poem The Waste Land. In 'The Burial of the Dead', Eliot describes April as the 'cruellest month' and goes onto present a series of images including that of a dead tree, a dry stone and a sun that beats heavy on the parched landscape. In this section, Eliot uses the line 'A heap of broken images' – a line which, in fact, I believe serves to illustrate the rationale behind the entire poem. Just as Eliot's The Waste Land is made up of seemingly disjointed images that work together to create a whole, so too is Laferrière's memoir. It is this 'heap of broken images' – to borrow Eliot's words – that are held together by the strongest thread of all…culture.

In The World is Moving Around Me, Laferrière asks: 'what is the value of culture in the face of a disaster?' to which he concludes, 'when everything else collapses, culture remains' (59). Culture, in all its forms, percolates heavily throughout this memoir. The peoples of Haiti are at the forefront of the text. After all, as Laferrière states, it is the people that will breathe life back into the city: 'The crowd's appetite for life makes living possible in these dusty streets' (60). What Laferrière does so well in the text is show those (natural) disasters such as the Haitian earthquake that measured 7.3 on the Richter scale are a test of humanity. In The World is Moving Around Me, we find Haiti's peoples standing strong in the face of adversity and as Laferrière puts it, 'Haiti's misfortune was not what moved the world: it was the way the Haitian people stood up to misfortune' (27). The writer shows that the smallest acts of kindness are revolutionary in these times of dyer desperation and as such, gestures like sharing a mango become heart-warmingly sincere moments in this memoir (73). For once then, destruction has eradicated any form of social barriers and everyone 'moved at the same speed' (25). It is the people of Haiti that make this text what it is: the writer takes us on a journey; bringing to the fore snippets of people's lives, narrated with such depth, revealing the turmoil and tragedy of a nation. In this way, the reader is drawn in, living the moments through Laferrière's notebook scribbles.

In The World is Moving Around Me, Laferrière juxtaposes culture with so called progress. Culture prevails, stands strong in the face of adversity, whereas progress does little more than collapse under the force of natural disasters such as that of the earthquake. Laferrière illustrates this point using a couple of prevalent images in the text. See, for example, the section entitled Projectiles: here Laferrière writes about the country's move to concrete over the last fifty years or so: 'The population had joined in an orgy of concrete' (16). But it is concrete that is the killer compared to the traditional wood and sheet metal houses of Haiti, which 'stood the test' (16). Laferrière goes even further to emphasise the uselessness of these so called advances in building materials a little later on in the memoir in a section appropriately called The Concrete Trap. In this moving little extract, we learn of a woman who spent a night talking to her family that was trapped beneath a ton of concrete. Soon her husband stopped responding, followed by two of her three children. Eventually, and after several agonising hours, her remaining child (a small baby) is rescued. In The World is Moving Around Me, it is nature that stays intact compared to the concrete buildings, which fall to their knees: 'The concrete fell. The flowers survived' (22). In fact, Laferrière uses the natural fauna of Haiti in another instance, which in my opinion forms the backdrop for the entire text: 'Not a single branch or flower moved during the forty-three seismic disturbances of that first night' (16). The tree of life stands strong, the people of Haiti (-who incidentally are later described as 'A forest of human beings' 28) also stand strong, and here it seems appropriate to return to a previous quotation, 'when everything else collapses, culture remains' (59).

The World is Moving Around Me is a compelling firsthand account with cleverly crafted imagery and skilfully interwoven narrative strands about a country shook to its bare bones, fighting to defeat the shadow of death. The text is available from Arsenal Pulp Press: www.arsenalpulp.com/bookinfo.php?index=380

++++++++++++++++++++++

Leanne Haynes has recently finished a PhD at the University of Essex, which was funded by the Arts and Humanities Research. Her thesis focused on St. Lucian literature and mapped out the island's rich literary landscape. She also completed her MA (Postcolonial Studies) and BA (Literature) at the University of Essex. Haynes has presented material at conferences in the UK and Europe. She is a keen creative writer and amateur photographer, with publications in the UK and US.
__________________________
 Dany Laferrière:
a life in books
I began writing after the first tremors. It's not often you see your city falling down in front of you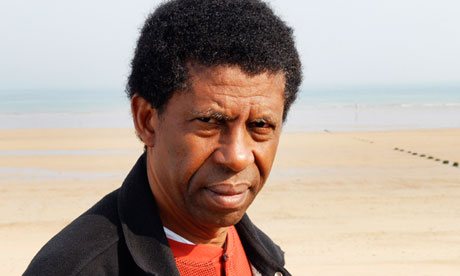 The Carré Saint-Louis in Montreal, beside a leafy square of graceful Victorian mansions, has few traces of the sleazy bars and strip joints that crowded the junction when Dany Laferrière wrote his debut novel there 30 years ago. In a "rat-hole" of a garrett looking out at the city's iconic hilltop crucifix, the Croix du Mont-Royal, the Haitian exile, then working as an office cleaner, hammered out on a Remington typewriter the book that changed his life. Like his narrator, Laferrière recalls, "I told myself, this is it – my last chance."
How to Make Love to a Negro Without Getting Tired, published in French in Quebec in 1985 and made into a film in 1989, was a slyly incendiary provocation on interracial relations that became a succès de scandale. As his longtime English translator David Homel wrote of the "eroto-satiric" bestseller: "Laferrière's ambiguity, and the difficulty of pinning him down, was one of the reasons the book was so infuriating – and so seductive."
Laferrière marvels at how his first novel filled the bookshop window, and enabled him to eat at the chic Café Cherrier across the street. The week after it was published, he was offered a job as a TV weatherman – an ironic metier for a man from the tropics who was "scared of winter". That "bull's eye", as he later described the book, began a sequence of fictive memoirs, of which The Enigma of the Return, published this month by MacLehose Press in Homel's translation, is the penultimate volume of more than 20 so far. A meditation on exile, loss and "navigating through two worlds", it won the 2009 Prix Médicis in France and the Grand Prix du Livre in Montreal.
Laferrière, who turns 60 in April, refers to his oeuvre as a whole as "An American Autobiography". It ranges from fiction drawing on his Haitian childhood to field notes from sojourns across north America. Though many books feature a fatherless boy, Fanfan, and his adult incarnations, Laferrière cautions against reading them as memoir. In The Cry of Mad Birds (2000), set in the feverish hours before the narrator flees into exile, the 29-year dictatorships of Papa and Baby Doc Duvalier are condensed into a single night. Also a screenwriter, Laferrière adapted three of his stories into the film Heading South(2005), set in Haiti in the 1970s, in which Charlotte Rampling played an ageing American sex tourist vying for a local youth who falls foul of the dictatorship.
Laferrière was back in Haiti for a literary festival in the capital Port-au-Prince when the earthquake struck on 12 January 2010, killing tens of thousands and reducing the city to rubble. He was waiting for lobster in a hotel restaurant, and began scribbling "15 minutes after the first tremors," he says in French. "It's not often you see your city falling down in front of your eyes. People are screaming in pain all around you. Children are running in the streets. Some people start talking about the end of the world. But writing, for me, was as important as taking care of the injured." Though he believes the great novel of the Haitian dictatorship was Graham Greene's The Comedians (1966), he says, "I didn't want it to be an American or British writer bearing witness, because they'd see the dead, but not know how they were when they were alive." He adds: "It's not all authors who get a chance to test literature and their relationship to it. I no longer ask myself if it has any use."
The World Is Moving Around Me (2011) came out in translation in Vancouver, on the third anniversary of the disaster. When the book was published in Haiti, where he waives his royalties, allowing local publishers to sell his books "for the price of the paper", his signing in Port-au-Prince lasted 12 hours. "These were very poor people, who recognised themselves in the book. It touched everybody."
There are snaking queues for Laferrière in Montreal too, where we met at the thriving French-language book fair, the annual Salon du Livre. For him, moving between the two biggest French-speaking populations in the Americas was a revelation. French, he says, was the "language imposed on Haitians, whereas it's what Quebecers want to preserve as the core of their identity … It showed it's not the language that's the problem. That freed me in my own relationship to French."
The Enigma of the Return moves fluidly between free verse and prose, partly in homage to the Martinican poet Aimé Césaire. It begins in 2009 as the narrator, Windsor Laferrière Jr (the author's real name), receives a phone call about his father's death in a Brooklyn hospital. Windsor had moved from one island, Hispaniola, to another in the St Lawrence river ("We always forget that Montreal is an island"), from fire to ice. As he journeys to New York, then Haiti, the book reflects on the father "whose absence shaped me," and how both their lives were rent by the Duvaliers, father and son.
The novel is "not only my return, but the return of all those who had to leave because of the dictatorship; those who could return only in their dreams; and those who hope their children will return in their stead. Many people had to leave – those who opposed the Duvaliers and, after the dictatorship, those who were for them. I don't deal with the reasons, but the fact of being away." In his books, "almost all details and anecdotes are true. But what's important is to communicate what I felt at the time, and what I feel as I'm writing. Writing, for me, is the layering of these two emotions."
His own father didn't really interest him in real life. "He was the most important person in my mother's life, but he left when I was too young. I was brought up by seven women: my mother, her mother, and five aunts. I didn't feel I was missing anything. But I thought it was important to dig into this emotion, because many people in the same position as me had an absent father." The true exile, he says, is the "one who stays behind, with the absence of those they love".
He was born in 1953 in Port-au-Prince, where his father became city mayor, a trade minister under François Duvalier, and ambassador to Italy and Argentina. But his growing dissent forced him into exile when his son was four. Dany was sent to live with his grandmother Da, who "interpreted dreams", in Petit-Goâve, by the sea. He was 10 when he returned to the capital, where his mother "always took me to school, even on days of strikes or political trouble on the streets". He once wrote that "Only women have counted for me." His father "fought against the dictatorship and lost," he says, but those who outlive the dictator "need a country afterwards, and it's women who ensure that". His mother, now in her 80s, is in all his books. "Sometimes I put words in her mouth she never said, but I only make her say things she thinks," he grins.
As a journalist in the early 1970s, in a "little group that bared its teeth to power", he focused on culture. "When you talk politics, the dictator's central: you're for him or against him. But I fought against the dictatorship by trying to prevent it from being the centre of my life. The most subversive thing is to be happy in spite of the dictator." An Aroma of Coffee (1991) drew warmly on his rural childhood, and in its coming-of-age sequel, Dining with the Dictator, Fanfan hides from the tyrant's "sharks in dark glasses", the Tonton Macoutes, under their very noses, safe in a house where "Papa" keeps his girlfriends. In the "terrible 70s" under Jean-Claude Duvalier, who ruled till 1986, "we didn't have the feeling we were in our own country, so all you think about is leaving. You can't be useful like that." When his colleague Gasner Raymond was murdered on a beach by the Tonton Macoutes in 1976, Laferrière fled. He went to Montreal, aged 23, because a benefactor had read of his story in a newspaper, and was "touched by it. She sent a letter of invitation and a plane ticket. I left without thinking I was leaving."
Working till 6am as a cleaner, he would fall asleep in courses at the University of Quebec at Montreal. Yet he sees his debut as the "first book to describe contemporary Montreal with an almost pagan happiness. Other Quebecois writers don't like Montreal. They're from provincial towns or outlying cities. But for me it was where I found happiness: I could sit with a glass of wine, walk around at night, go to a museum, meet girls, have a room of one's own – like Virginia Woolf. This was total freedom." Of its less welcoming face, he once wrote, "I wanted to use the old insults until they became so familiar they lost their sting." He says now, "my wife used to tell me, 'Don't be so ironic, people will get angry.' But that's exactly what I wanted."
He met his wife, Maggie, who is also from Port-au-Prince, on a brief visit to Haiti in 1978. She was a volunteer nurse, but lived in New York, where their eldest daughter was born in 1980. At first, "we couldn't be together because of problems with papers, and I had no income". But she gave up her nursing job to move to Montreal in 1982, where they had two more daughters. Partly driven by the climate, they moved to Miami's Little Haiti in 1990, where Laferrière wrote 10 books in 12 years, returning to Montreal in 2002. "In Miami I understood I wasn't only Haitian; I had a northern man inside. I've become a great apostle of the cold."
For him, "a writer's country is their first library". In his satirical take on national identity, I Am a Japanese Writer (2008), he paid homage to the poet Basho. "I often write with a guide, a pilot fish," he says, admiring the "five Bs: Borges, Baldwin, Basho, Bulgakov and Bukovsky."
It was not until he came north "that I realised how insular people could be". Haiti's history has, he believes, fuelled a cultural openness. "Lincoln is the hero of America's war against slavery. But slavery was abolished in Haiti through the slaves themselves. Jean-Jacques Dessalines and Toussaint L'Ouverture taught themselves to read – they were called stealers of the alphabet. It was the greatest revolution of all time. In others in France or Russia, a bourgeoisie replaced an aristocracy. In Haiti, for the first time, the slaves who were chattels under Napoleonic law revolted, and freed a country in the face of the largest army in Europe." The quake's destruction of the presidential palace in 2010 shocked everyone, he argues, because "people never identified the palace with the dictatorship. For all social classes it symbolised that we are a true country. Our houses are small, but there's this great public space."
Returning to Montreal after the quake, he determined to correct lazy misconceptions – that Haiti was "cursed", or overrun by looting. "I heard an AFP [agency] journalist say, 'This morning I saw my first looter.' It seems to me that a single looter doesn't exist. For looting you need looters." He is as scathing about NGOs ("lay missionaries"): rather than focusing on why so little progress has been made, "Why not ask where we are with the human reconstruction? Are there psychological traumas? No, the death of Princess Diana caused more emotional distress. Whatever is down to NGOs, foreign governments and the Haitian state is not going well. But everything that depended on the Haitian people themselves is fine."
Moving to Quebec, Laferrière says, made him realise the value of Haiti's independence. "It's interesting coming to a land of white people where everyone complains about being crushed by English colonists. Haiti has nothing but its independence, whereas Quebec has everything but its independence. Rich people here say they have only a morsel of bread; whereas Haitians all believe they own a bakery. Imagine the poorest country in the western hemisphere, repeatedly hit by catastrophes, whose people think it's the centre of the universe. Nothing can replace that psychological liberty. It's no small thing, this freedom of the mind."
>via: http://www.guardian.co.uk/books/2013/feb/01/dany-laferriere-life-in-books